4 Tips on Storing Your Car in the Winter
Published on 4/25/2019
Top 4 Tips for Storing Your Car in Self Storage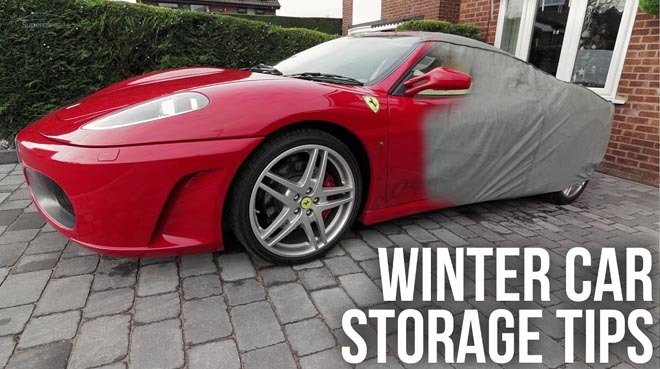 It's the question on everyone's lips! Or, it's at least the question someone might ask themselves if they've recently bought an expensive car and can't figure out what to do with it during the coming winter…
Fear not. All hope is not lost. In fact, if you're asking yourself 'where can I store my prized possession safely, away from damage causing climes like sleet, snow or hail?' then we've got the answer for you. If you're asking, 'can I even store cars in self-storage?' then we also have the answer for you. And if you're wondering 'what should I think about when storing my mean machine in a self-storage garage?' then we have the answer to that as well…
In fact, here are our top four tips for storing your car in a self-storage unit.
1. Choose whether you're using indoor or outdoor storage
These days, most storage providers will offer indoor and outdoor solutions. Things like cost and how to prepare your pride and joy for their time in hibernation will depend on whether you're choosing to store indoors or outdoors, with outdoor storage likely to be the cheaper option. So, make sure you know your preference before commencing your search.
2. Seek out trusted and safe self-storage providers
Your car is one of your most expensive assets, which is why they need to live somewhere safe but accessible if they're parted from you. We recommend that you do your research when seeking out a local self-storage garage of good repute. Have they got excellent reviews? Is their website secure? Are their facilities clean, well-managed and climate controlled (if indoors)? Are they close to you? These are just a few key things to consider. Once you're confident in your chosen storage facility, you can think about how to prepare your car for its new home.
3. Match the car size to the area size to avoid overpaying
Space is a premium often charged for, especially for those of us who live in crowded and overpopulated towns or cities. Storage solutions are no different, although they are safer and more secure than your average garage. That said, whether it's indoor or outdoor storage you're looking for, most cars will need around 10 x 20 square feet (or more) of space, which should see them fitting inside their new home all safe and snug. However, once you've measured your car and have an idea of the dimensions needed, talk to your storage provider of choice and ask them for their special recommendation. The last thing you want is to agree a price, only for you to end up squeezing through your car's back window because you didn't give yourself enough wiggle room…
4. Preparation is key. Write down a checklist
To ensure maximum safety and optimum damage control, we recommend you complete a few key preparations to optimize your car's storage experience:
Before:
Lay down some plastic tarp for your car to hibernate safely and soundly on. This keeps everything contained and avoids ground moisture causing unnecessary damage. If storing your car outside, remember to use a quality tarp that fits as snug as possible. If it's too big it can cause issues when it comes to removing it.

Completely fill up the gas tank. If the tank is low or empty, the air can potentially lead to internal rust forming due to condensation and moisture building up within the tank. Maybe think about a fuel stabilizer and be sure to drive your car around after putting it in so it can evenly distribute to the appropriate engine parts.

Lubricate everything! Change the oil and spray lubricant on all of the metal surfaces you can see to protect those areas from rust and corrosion. This will also reduce any harmful contaminants potentially getting into your engine.

Become an inspector and take note of any potential leaks or drops from the brakes, engine, transmission etc., and then repair any you find.

Give your pride and joy a full and comprehensive clean and wax. This will both deter rodents from making a home in your bonnet and prevent corrosion. You might want to tape or plug the exhaust pipe with aluminum foil, but remember to remove it before you start the engine again or you'll be in for a shock!

If you're worried about your tires, think about using jack stands to take the weight off them.

Disconnect the battery and store it in a battery box to prevent it failing.

Disengage the parking brake to avoid it corroding.
When it comes to reviving your baby, preparation is still key:
After:
Charge the stored battery for at least 24 hours (and no less!) Remember: The positive cable should be attached first.

Check your tire pressure, brake fluid levels and any plastic tarp hazards, such as ground freezing.

Take out anything you plugged up the exhaust pipe!

See if your car starts and then check that there are still no leaks…

Clean it to restore your prized possession to its former glory!
For more information on storing your car safely and securely, please
get in touch
with us. For more general enquiries on storage solutions, our website can be found
here
.